What are Parish Registers?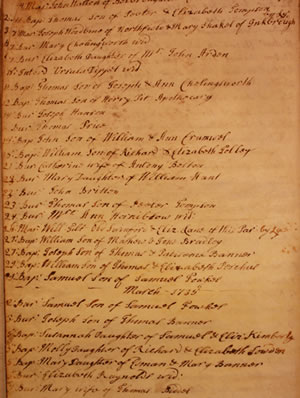 A page of baptisms from a book of original Parish Registers
(courtesy of TheGenealogist)
Parish Registers are records of baptisms, marriages, and burials made by the Church. They are a valuable resource for researching your family tree because the census and official records of birth, marriage and death do not go back further than 1837. They can extend your research back to the time of King Henry VIII, with many records going back to the 1600s.
Once you have got as far back as possible using BMD and census records, you will need to turn to Parish Registers for information. You will usually find parish registers at the local County Record office, or at websites like TheGenealogist.co.uk that offer searchable transcripts and original images.
Phillimore's Marriage Records is a series of books published in the late 19th and early 20th centuries, and holds transcriptions of marriage registers. Learn more about Phillimore's marriage registers below.
Parish records can extend your research back to the time of King Henry VIII. Most records go back to the 1600s, and some even go back to the 1500s. View our history of Parish Registers.
How Parish Registers can help you with your research
These records can help you trace your family roots back through baptisms, marriages, and burials.
A baptism record would usually give the name of the child, their parents, and where their parents lived. You can use this information to trace their parents, as their marriage record is likely to be in the same place where they live. The marriage record would give you the parishes of both bride and groom, allowing you to trace their parents in the parish, and so on.
Phillimore Marriage Registers
W.P. Phillimore, born William Phillimore Watts Stiff, was the son of Dr Stiff, a Nottingham Doctor. He later took the name Phillimore from the family of his grandmother. While educated as a lawyer, he was also a publisher of books. In later life, he began to transcribe marriage registers, which he later printed in book form. When he died in 1914, he had covered 1200 parishes from different counties in 200 volumes. He founded Phillimore & Co. Ltd in 1897, which have been publishing British local and family history for over a century.
Phillimore Marriage Records are a series of books published in the late 19th and early 20th centuries by Phillimore & Co. Ltd. They cover marriages from various parishes from each county, however there may be some omission as some of the registers have not survived. In some counties, the coverage of parishes is very good, whereas in other counties just a few parishes were transcribed - most counties do not have every parish transcribed.